VMAS, the Video Music Awards, or should it be called the Taylor Swift Music Awards?
MTV's reputable and 39-year long running production took place this past Tuesday in New Jersey. The clock struck eight and the talent began pouring out. There were many talented artists in attendance as nominees, performers, or, if they were lucky enough, recipettes. Obvious winning a VMA is the goal, however just being present for the show speaks volume for the artists' talent. This year's biggest headline of the event was THE Taylor Swift. Swift walked in that night with fourteen VMAs but tallied nine more to her who resume with the tied title of winning the most VMAs in a single night. Swift has been running the industry this year as she began her tour, The Eras Tour, and has been releasing new music often. The Swifties are growing as six of her acknowledgments came in fan-voted categories.
Even when she was not winning a physical award, Swift was still winning.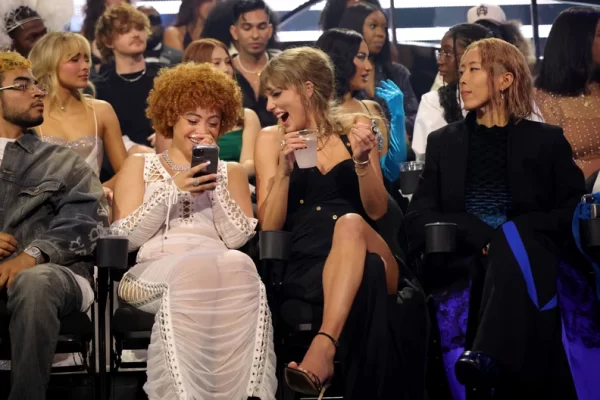 This was the case as her friend and collaborator, Ice Spice, won "Best New Artist" of the year. This past summer, during the "Eras Tour" Taylor came out with a remix of her song "Karma", this time featuring Ice Spice. This duo performed together in her New Jersey leg of the tour. Ice Spice has been in the industry since 2021; however, she soared in popularity after her song "Munch (Feelin U)" was released in 2022 and became an instant hit on the social media app TikTok. Overall, this year's show provided a variety of music and honored so many in their art. 31 different performances spanning all types of music with all of the artists had put on such a wonderful show. Some special acknowledgments; congrats to Shakira on winning the "Video Vanguard Award", and congrats to Diddy who now has the title of "Global Icon Award", both such great achievements. Even with this event being about music, we cannot forget the jaw-dropping talent in taste of outfits that floated across the famous red carpet. Selena Gomez wore a fiery, amber, detail dress: Madelyn Cline looking like royalty with her fitted, pastel gold dress: Taylor Swift channeling her Reputation era with her gorgeous dress: and Dixie D'Amelio with her angelic, innocent, look with a little bit of sass being displayed by the light touch of feather on her dress. That is just a small fraction of the unignorable that was on the red carpet. VMAs, 2023, was a successful night, and once again, congratulations to all! (featured below is a list of all of this year award winners)
Story continues below advertisement
2023 MTV VMA Award Winners:
–
Video of The Year – Taylor Swift (Anti-Hero)
Artist of The Year – Taylor Swift
Song of The Year – Taylor Swift (Anti-Hero)
Best New Artist – Ice Spice
PUSH Performance of The Year – TOMORROW X TOGETHER (Sugar Rush Ride)
Best Collaboration – KAROL G, Shakira (TQG)
Best Pop – Taylor Swift (Anti-Hero)
Best Hip-Hop – Nicki Minaj (Super Freaky Girl)
Best R&B – SZA (Shirt)
Best Alternative – Lana Del Ray ft.Jon Batiste (Candy Necklace)
Best Rock – Maneskin (THE LONELIEST)
Best Latin – Anitta (Funk Rave)
Best K-Pop – Stray Kids (S-Class)
Best Afrobeats – Rema & Selena Gomez (Calm Down)
Video for Good – Dove Cameron (Breakfast) 
Show of the Summer – Taylor Swift
Group of the Year – Blackpink
Song of Summer – Jung Kook ft.Latto (Seven)
Album of the Year – Taylor Swift (Midnights)
Best Direction – Taylor Swift (Anti-Hero; directed by Taylor Swift)
Best Cinematography – Taylor Swift (Anti-Hero; Cinematography by Rina Yang) 
Best Visual Effects – Taylor Swift (Anti-Hero; Visual Effects by Parliament)
Best Choreography – BLACKPINK (Pink Venom; Choreography by Kiel Tutin, Sienna Lalau, Lee Jung (YGX), Taryn Cheng (YGX))
Best Art Directon – Doja Cat (Attention; Art Direction by Spencer Graves)
Best Editing – Olivia Rodrigo (vampire ; Edited by Sofia Kerpan & David Checel)